Make these goddamn cookies
These are the best goddamn chocolate chip cookies ever made, arrived at through two parts miracles and one part science. If I was running a recipe blog, this is the part where I would tell you my life story.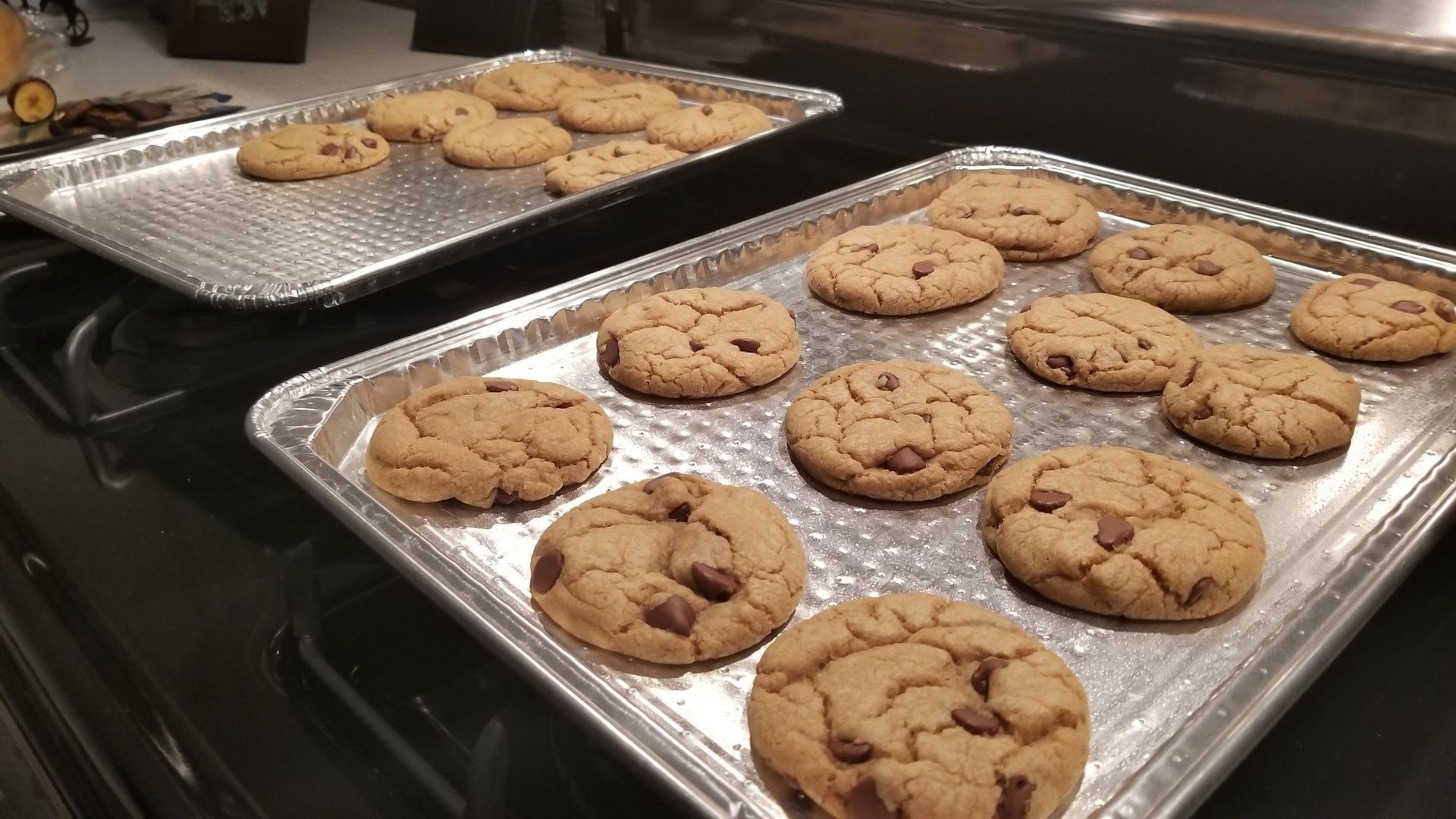 Here is the recipe.
SHIT YOU WILL NEED
Ingredients
2 cups flour1
1/2 tsp salt2
1/2 tsp baking soda3
12 tbsp butter (3/4 cup, typically 1.5 sticks)4
1 cup packed brown sugar5
1/2 cup granulated sugar
1 egg + 1 egg yolk,6 normal size
3 tbsp vanilla7
A fuckton of chocolate chips
Equipment
One large bowl
One medium bowl
Something to melt the butter in8
Electric mixer or suitably muscular roommate9
THE RECIPE I GUESS
Preheat oven to 325 F.10
Mix flour, baking soda and salt in large bowl, set aside.
Dump sugars in medium bowl.
Melt butter and dump into sugar bowl. Mix until barely combined.
Dump whole egg, egg yolk and vanilla into sugar bowl, mix until texture is consistent.
Mix contents of medium bowl into contents of large bowl.11
Dump chocolate chips into the dough until it can't hold any more.12
Generously butter your cookie sheet.13
Bake for 16 minutes, rotating the cookie sheet halfway through.
Let cool before eating.16
STORAGE
An airtight container17 with a slice of bread will keep these good for a while. If you don't have bread, a very slightly damp paper towel will do, just don't let it touch the cookies. Store these without a source of moisture or exposed to air and they become rocks in 3 days.
SUBSTITUTIONS
Rice flour is not a drop-in substitution. Egg substitutes are not drop-in substitutions. Baking powder is not baking soda. If you use margarine I will come to your house and shoot you.