Mahjong Soul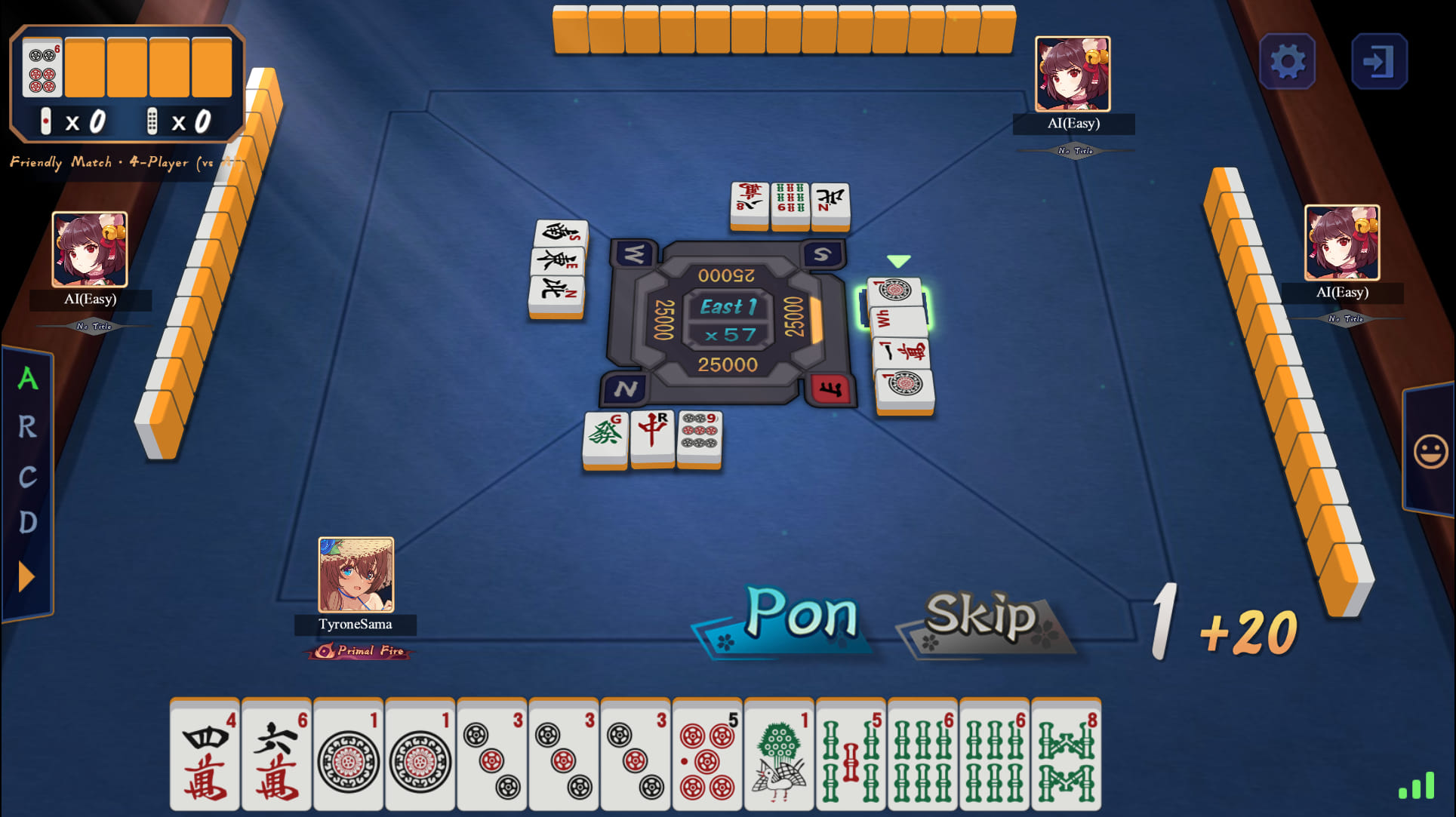 Web/Android/iOS. The ToS-breaking "Majsoul Plus" provides a desktop-like experience, but you might want to use your browser's kiosk or webapp mode instead.
English UI available, optional Arabic numbered tiles. Translation never really feels native, but mostly doesn't get in the way.
Plenty of strong players, fast queues until top level. Geolocked until you escape Bronze room, so your starting games will be extremely gentle.
5+20 time controls, fairly slow animations. This + network lag in cross-region matches can slow games down a lot, but I'm told I'm kind of a weirdo for caring about this.
Wait preview, furiten warning, dora highlight, selected-tile highlight. Assists are disabled in top-rank rooms.
Ranked 4P/3P tonpu/hanchan, occasional matchmade event rulesets (like "Bloodshed Skirmish", modeled after Sichuan Bloody / SBR)
Private games available with limited ruleset customization. AI at varying difficulty can fill empty slots.
Mostly reserved aesthetic, functional and simple with the occasional character cutin or emote. Level of horniness varies from "some" to "whoa okay" depending on how much money the people in your room have spent.
Incredibly stingy with cosmetics; most things come from the (virtually) paid-only gacha, much fewer things from incredibly grindy and time-consuming events. One free character has been earnable ever, and she's unobtainable now. I still do not have custom tile backs. A friend of mine spent $100 on this, got almost fuck-all, and advises heavily against doing what she did. There are some userscripts around for client-side cosmetic unlocks, and syncing those client-side settings in private games only.
This is a sensible "default" place to play if you're new to the game. Cross-region matchmaking isn't enabled until Silver room; Bronze players are typically extremely bad, overwhelmingly the worst of any client I have ever played, making them an appropriate challenge for total newbies.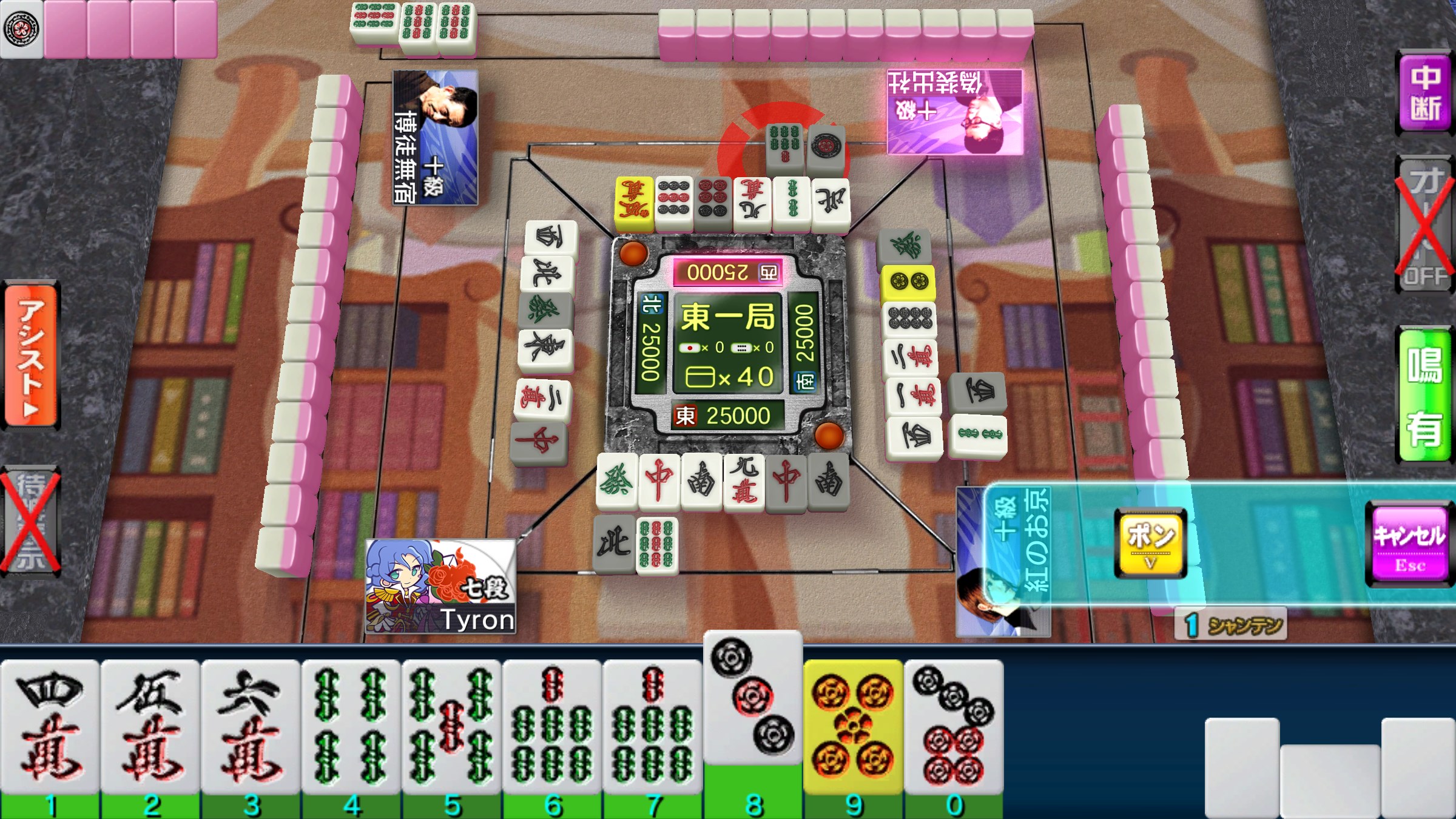 Windows/Android/iOS. The native clients feel really pleasantly snappy. Note that the iOS version is in cosmetic jail, and won't share cosmetic unlocks (even paid ones!) with Windows/Android.
Japanese UI only, but a good amount of the main menu has English help text. I used the mahjong.wtf guide to get set up.
Fast queues for everything but ranked hanchan.
3+40 time controls, limit 10-second reserve per turn. In high-rank rooms, 1.6+30 (!!!) and limit 5 seconds. Animations are all nearly instant and never block play. This is LIGHTNING FAST and IMO very fun, but potentially overwhelming for newer players.
Wait preview, furiten warning, discard assist, tsumogiri greyout, selected-tile highlight, safe tile display, shanten display, all-last overtake guide. Every assist I can think of exists here, and appears to always be legal.
4P tonpu and 3P hanchan are agari renchan only. The more standard tenpai renchan is available, but only in ranked 4P hanchan, which is only available at late JST hours. Ranked and event play costs in-game currency or daily tickets, and won't always be available for free players.
Private games available; limited ruleset and time control customization, organized through a weird UI that effectively gives you a private matchmaking queue. This is super cool for big groups or streamers, but not quite as friendly as "hey gimme the 5-digit room code". AI will fill empty slots if you choose to start early.
Gambling addict aesthetic—think diluted pachislot. Flashy, loud and intense, but with big and bright interface elements to keep everything maximally readable (check out how much screen space is dedicated to your hand). There are some English commentators available, left over from a defunct global release, and they are HILARIOUSLY good.
Limited earnable cosmetics with in-game currency, event play, and Bingo/Challenge cards; paid gacha (usually with duplicate prevention) that contains all kinds of SEGA and collab cosmetics. I whaled for Magical Sound Shower during East 1 and I'm not sorry.
This is my preferred client for when I want to blow off steam and have fun, which is almost always. It's a pretty cutthroat and crazy environment, and out of every available client, it cares the most about its game feel—though whether you like the direction it takes is very much a matter of personal preference.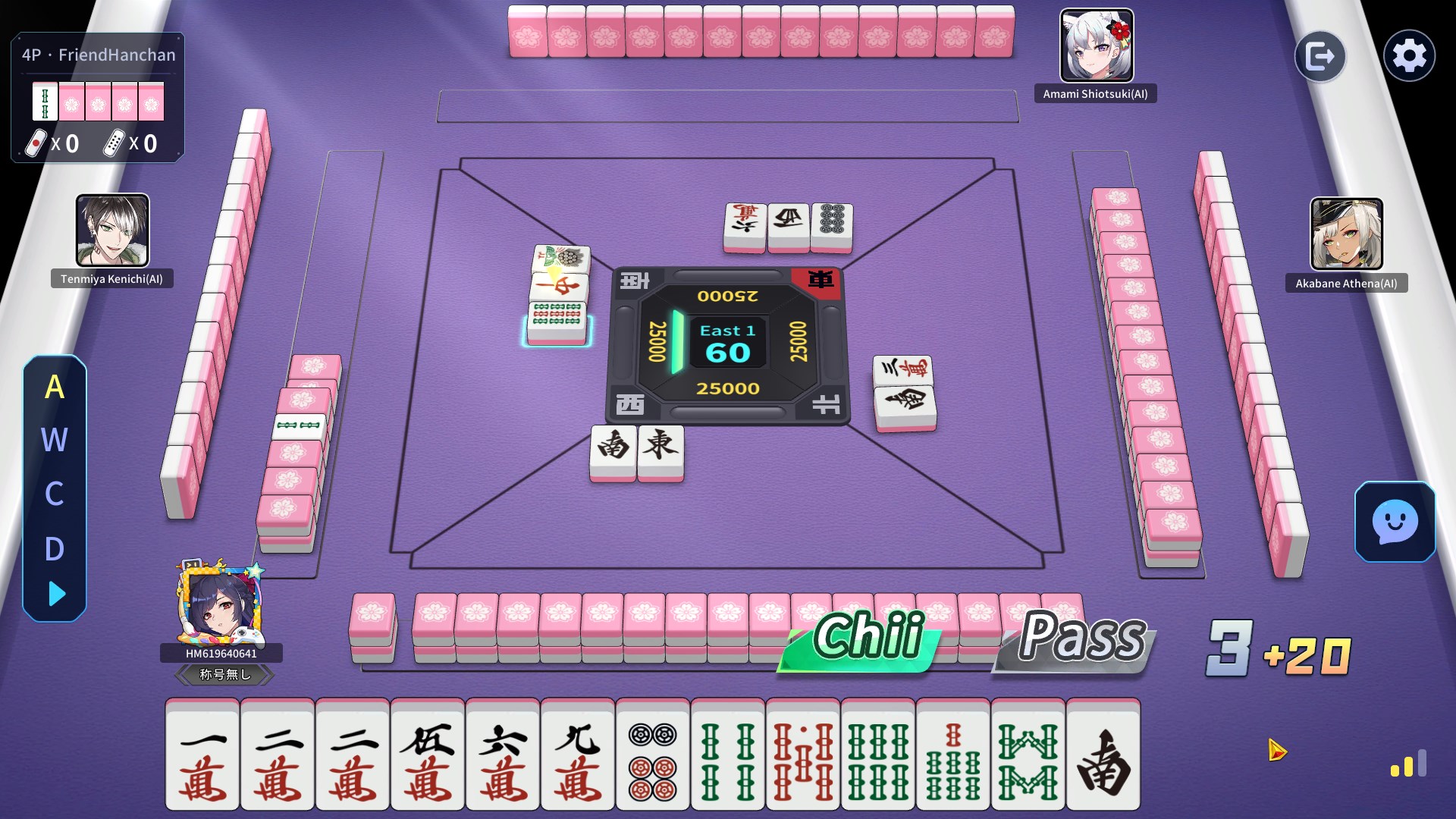 Steam (all platforms?)/Android/iOS. Not quite SEGA MJ snappy, but feels better than browser games.
English UI with occasionally janky translations. Arabic numbered tiles available.
Playerbase is a bit quiet, but alive enough below top level.
5+20 time controls, but animations and overall play are a little faster than the otherwise-identical Mahjong Soul.
Wait preview, furiten warning, dora highlight, selected-tile higlight, tsumogiri greyout. Unknown if assists are allowed in top-rank rooms. Also, Auto Kan during riichi exists, which is hilarious.
4P/3P tonpu/hanchan, plus an utterly deranged automatic tournament system that is played best of one hand. what.
Private games and tournaments available, with incredible levels of ruleset customization—it's two full pages of UI, from uma/oka to open tanyao to incredibly specific in-house yakuman. This is easily the most compelling draw of the client.
Largely unremarkable aesthetic until any character appears. Riichi City has ludicrously horny alternate costumes, animated emotes, and hilariously toxic voice emotes—there is something going on here and you probably already have some idea of whether you're into it. On the other hand, one of the only clients I've encountered that shows the wall during play, which is pretty cozy.
Limited earnable cosmetics with in-game currency. Paid gacha for characters and many cosmetics, but with plausibly earnable free pulls; characters are reachable with sustained effort for free players.
Because SEGA MJ is in Payment Jail on iOS, and Mahjong Soul sometimes gets really picky about simultaneous logins, Riichi City has become my preferred "playing from my futon on an iPad" client. The developers seem to be pretty responsive on Steam's discussion forums, and the client's improved a lot from its initial launch, most notably adding 3P. The aesthetic isn't really my thing, but I like my cherry-blossom tiles. Sue me.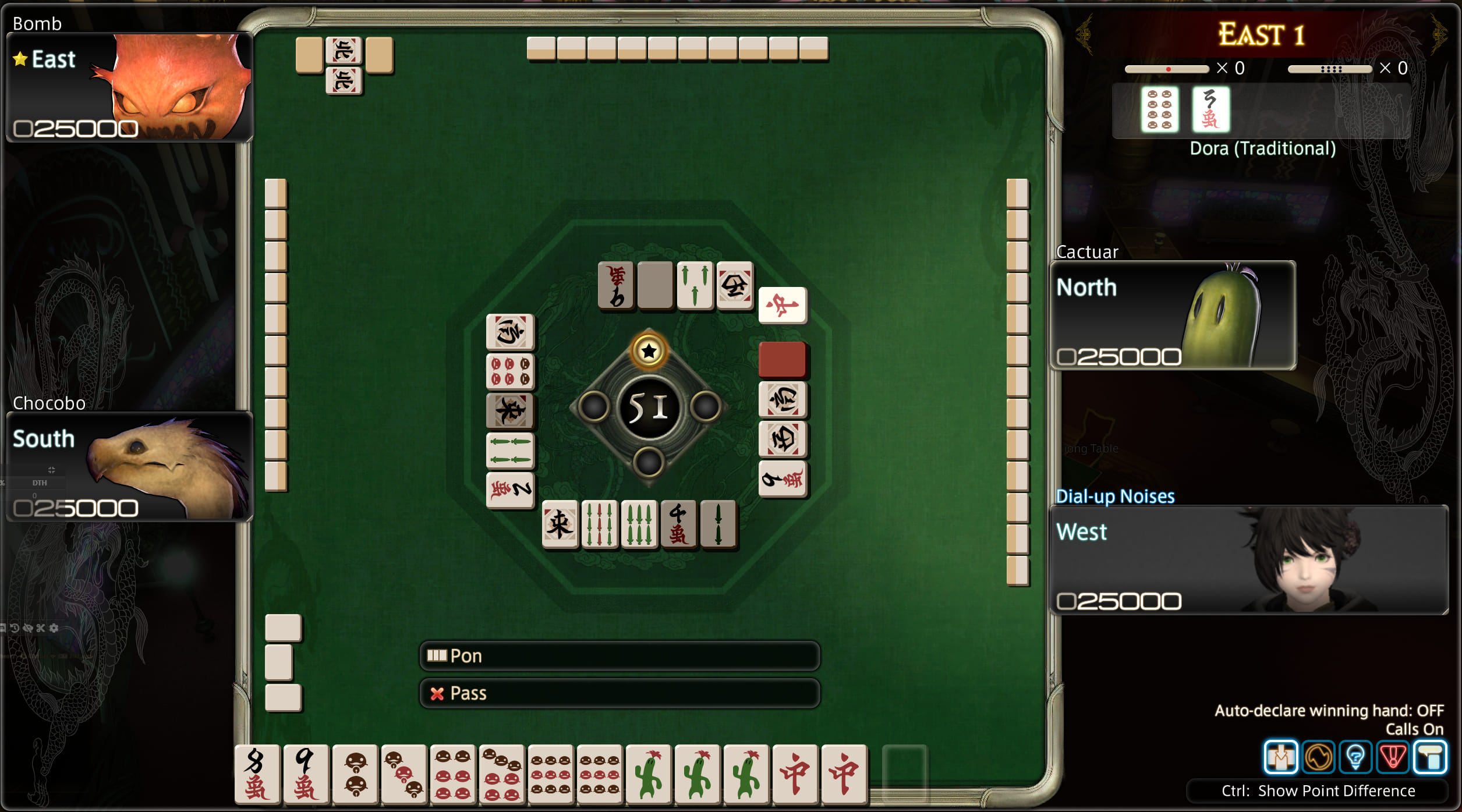 Windows/Mac, Linux via Proton seems to do alright. Noteworthy for being the only mahjong client that contains an MMO—to play, you need to do the main story quest to about level 15, which unlocks airship travel and a good portion of the game. This can be done from within the unlimited-duration free trial.
Polished English UI. Uses a custom tileset with Arabic-styled manzu (which you can turn off in favor of a more traditional set if you dislike it).
Playerbase is pretty small, but pretty dedicated. You can usually get steady games once people in your region are home from work/school, and you get to know everyone in the queue.
15+0 time controls in Novice rooms, 10+0 in Advanced. Players can drag game pace down badly if they're confused, and they will be confused a lot, but novices have plenty of time to think; this is a weirdly good environment for learning the game.
Furiten warning, but only after you've committed to a discard. Tsumogiri greyout is available. Discard hints and tile safety ratings are available in all rooms, and are usually decent suggestions for totally new players, but I still recommend most people turn them off. What are you supposed to be learning?
4P only, tonpu/hanchan.
Private games available; virtually no options, just open tanyao on/off. No AI fill.
Reserved aesthetic, but you get to show off your MMO character so it rules actually.
Ridiculous amounts of earnable dressup cosmetics, but you're not going to get them from mahjong, LOL. No native customization for table stuff, but you can learn modding if you really want.
This is mostly of interest to people already playing Final Fantasy XIV, but if you're looking for a friendlier environment than Tenhou and really hate Live2D titties, you could do much worse. XIV's unrestricted text chat is active during games, and being able to chat with people in matchmade mahjong is actually a really interesting novelty. No one in my games has used this to blatantly collude…yet.
Did you know there's an unused tileset in the game files that uses FFXIV's fantasy "Hingan" script for manzu? Nobody in the world can read it, but it's pretty sick. Also, the "Mahjong Master" title, achieved for R2000, is rarer than the achievements for the game's most demanding fights.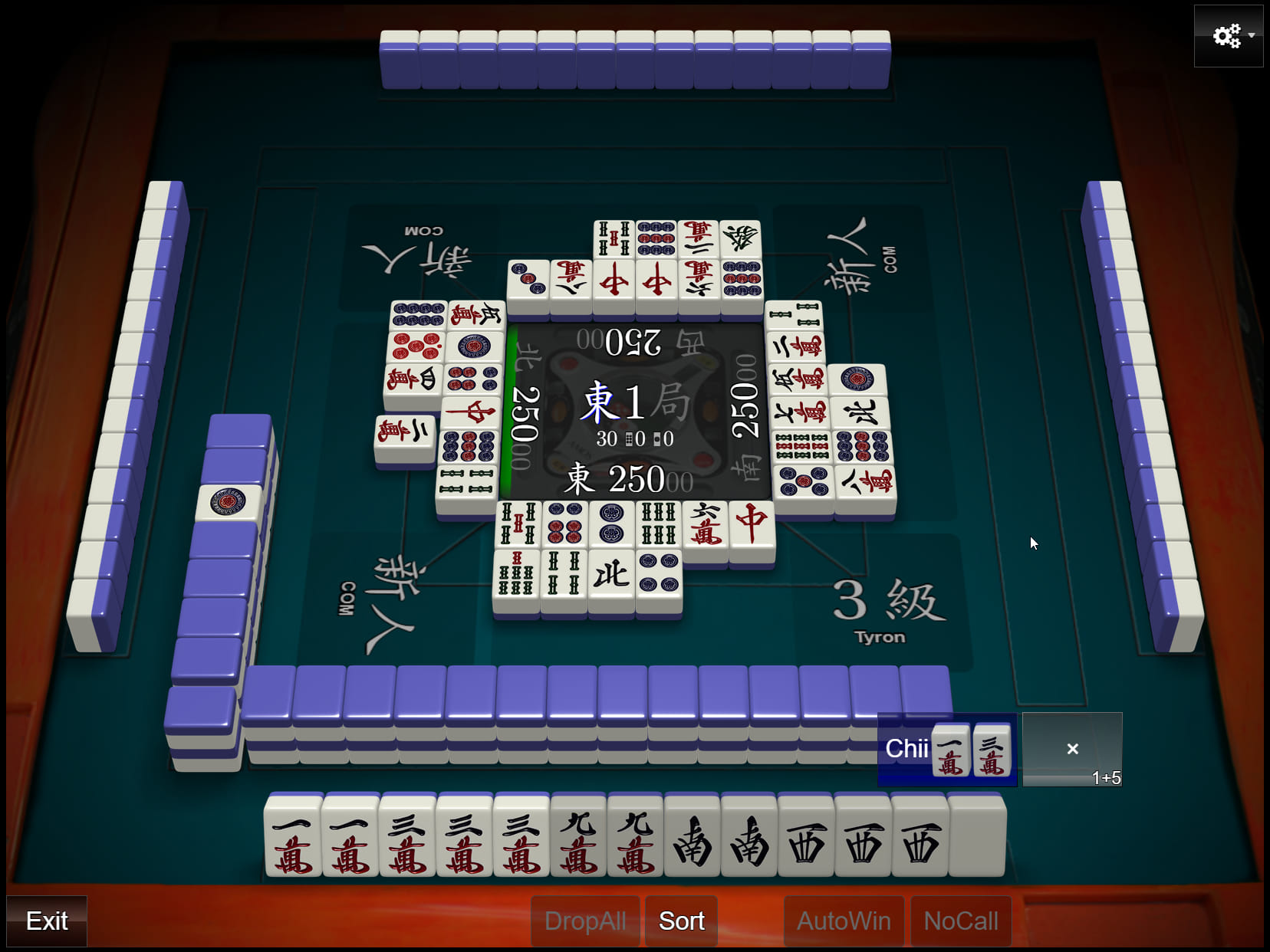 Web/iOS/Android. A Windows client is available for paying subscribers, but is somehow even jankier than the web clients despite the EXTREMELY BASED lobby music.
Limited official English UI. Browser extensions can help out here, but you're low-key fucked on mobile.
Highly active playerbase that includes the strongest players in the world. General consensus seems to be that Tenhou's players are typically stronger and more serious.
5+10 time controls, 3+5 (!) in "fast" rooms. This is a little misleading, though; fast moves regenerate your reserve time, so it's not quite as lightning-speed as you'd expect. In my experience, SEGA MJ is still a little faster, but it's very close.
The only things automated for you are calls. No assists besides the barebones ones required to prevent illegal play.
4P/3P tonpu/hanchan. Separate matchmade queues are available for any combination of "fast" time controls, red 5s on/off, and open tanyao on/off.
Private lobbies are available using a pre-organized lobby code, with the standard ruleset options. This basically puts you in your own private matchmaking instance, and isn't really a "lobby" like you might expect from other clients. No AI fill.
Barebones and serious aesthetic. You can recolor tile backs (this beats Mahjong Soul, LOL), use a custom image for the table background, and specify your own URLs to replace the male and female voice lines. No customizations visible to other players besides your chosen voice gender. We're not here for fun, we're here for business.
Tenhou exists in a weird place for me. If I want to play a quick game, I open SEGA MJ, and if I'm settling down for a long haul, Tenhou's tight time controls and spartan aesthetic feel a little unfriendly to sustained focus. No Fucking Gacha, though—I feel compelled to support it on that basis alone, and at some point I'm going to want to seriously push for rank where all the scary players are.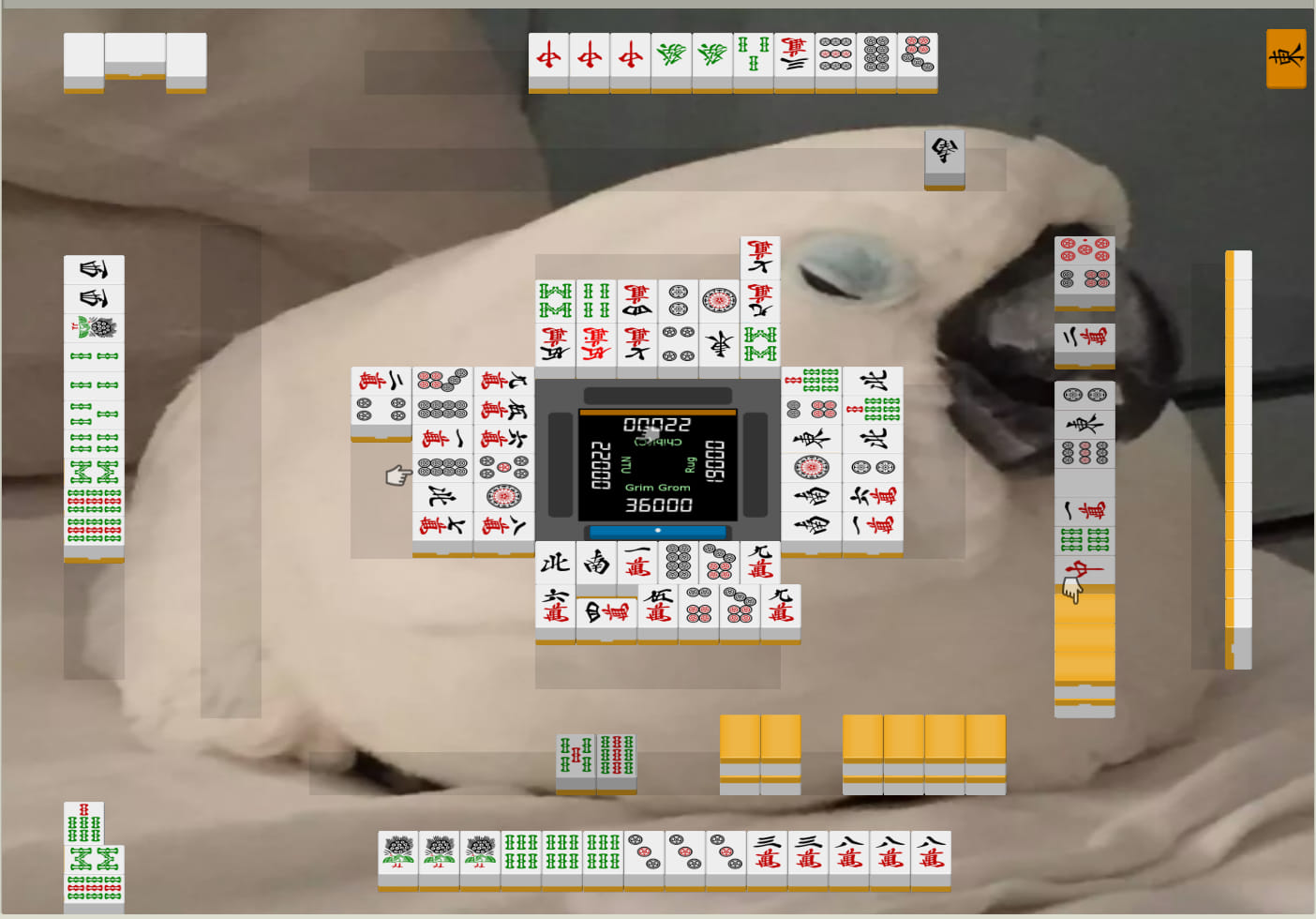 Web. The jank is part of the appeal.
English UI, but there's…not much UI. The tabletop is customizable, as you can see from this screenshot I stole from a friend.
Autotable is designed as a "virtual tabletop" for you and your friends, probably using some kind of voice communication; you move tiles and point sticks manually, and the only automation that's provided is stick-counting and shuffling. Anyone can do anything at any time.
Not suitable for novices who aren't comfortable with the flow of play or the rules. Be prepared for games to run long if people don't make a concerted effort to play fast.
The lack of automation forces you to pay more attention, which is honestly a pretty nice way to play, but it's obviously missing a lot of things that make IRL play nice; if you've never played IRL, it's a solid facsimile and worth a try, but I regularly play IRL and find Autotable kind of frustrating. It's a nice change of pace from time to time, though, and the jank of arbitrarily rotating tiles and making illegal discards is super funny. Bring a scoring calculator!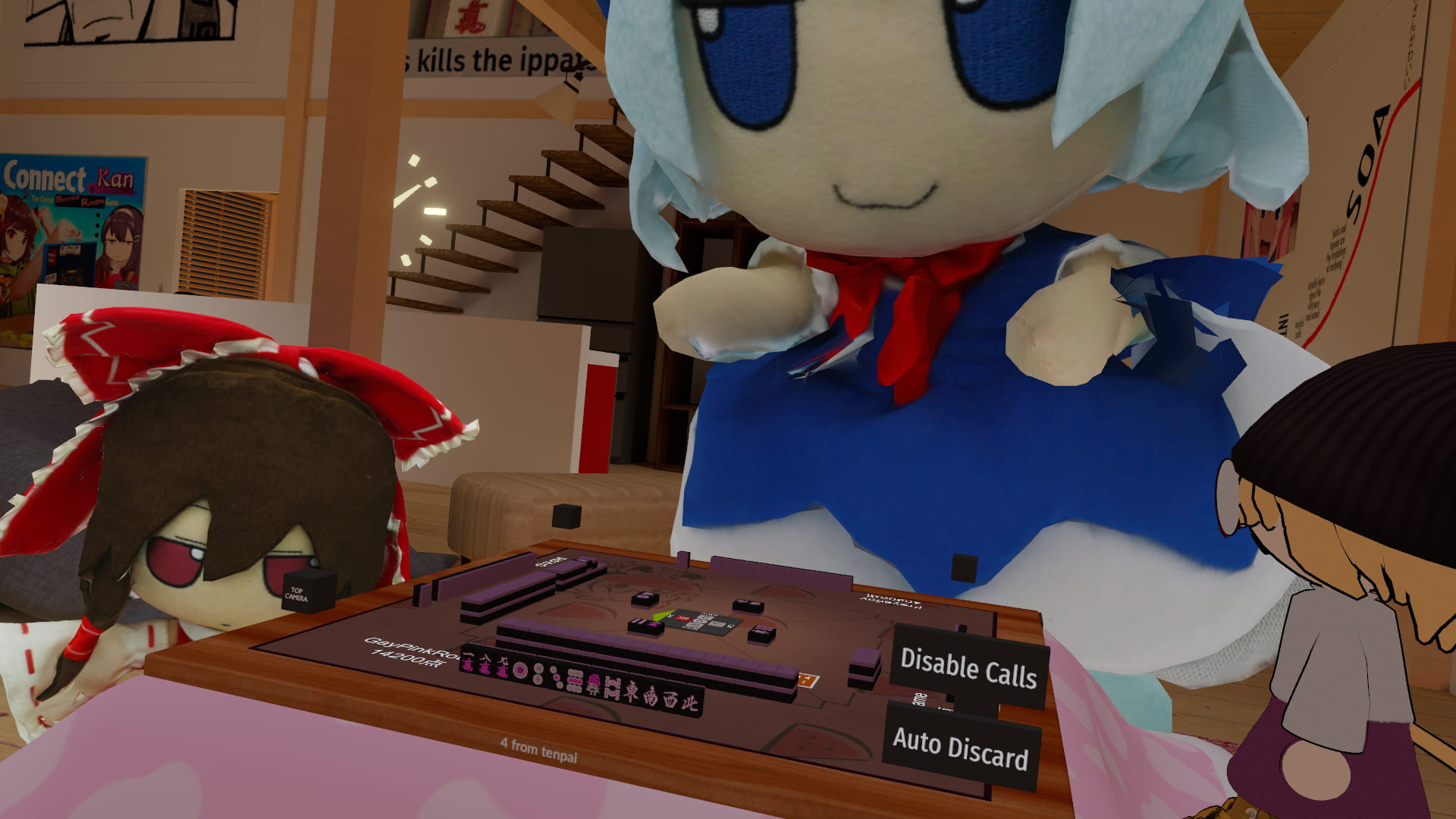 Yes, really.
Windows / Quest 2, apparently Linux does alright through Proton with some finagling. You do not need a VR headset.
UI considerations depend on the world you're in, but a handful of worlds by English-speakers have translated autotables or hinted tiles.
Bring your friends. Public mahjong instances seem to fill pretty reliably, but it takes a bit, and people are sometimes understandably cagey about "face-to-face" with strangers. AI can be used as a replacement player, but it imposes some pretty bad stuttering and freezing on the host of the world because Udon is terrible.
Some worlds just provide a table and a bunch of physics-object tiles, which is fun for a lark but usually pretty difficult to actually play with. Worlds based on the popular "Aozora Mahjong" prefab provide desktop client-like automated play, all in 4P and some modified for 3P. No world I'm aware of enforces time controls of any kind.
Self-actualization is free, incredibly varied, and sometimes unbelievably fucking disruptive. Once you've played for a few hours, you unlock the ability to upload your own avatars and self-actualize even harder.
If you're looking for a simulation of IRL play, this checks a lot of the boxes that Autotable doesn't—I could write for pages about how positional voice and physical gaze makes all social interactions better. VR interface design is kinda jank, and the high degree of automation doesn't really demand the same level of attention as over-the-table play, but if I'm playing with friends, VRChat is how I prefer to play. It helps that I made a parlor for us.